Catholic Stewardship Appeal
Many Hands. One Vision.
The Catholic Stewardship Appeal, the annual fundraising campaign of the ten-county Archdiocese of Milwaukee, supports Catholic life throughout southeastern Wisconsin.
The Appeal provides Catholics opportunities to support a wide range of ministries and programs that benefit more than 500,000 people each year. As Disciples of Christ, and in communion with Him, we respond to the call of helping our brothers and sisters in His name. There is no better, more convenient way to participate in making lives better than through the Appeal.
Appeal Funded Ministries
Contributions to the annual $8.1 million Catholic Stewardship Appeal are restricted for use in four key areas of ministry:
Serving families
Strengthening parishes
Supporting schools
Forming priests and parish leaders
Each area includes distinct and essential services that form an important part of what the Church in southeastern Wisconsin does to serve God.
Gifts to the 2020 Appeal are used solely to support these ministries and shall be kept separate from other assets of the Archdiocese of Milwaukee. The descriptions below detail all ministries funded in the 2019 Catholic Stewardship Appeal and, as such, serve as documentation of the 2020 Appeal's case for support.
The stated amount of $8.1 million for the 2020 Catholic Stewardship Appeal is the amount needed to conduct the Appeal and fund the various ministries described below. If more than that amount is raised, the excess will be used for one or more of the ministries described to provide expanded services. If less than the stated amount is raised, some ministries described below will be funded at lower levels or may have to be suspended.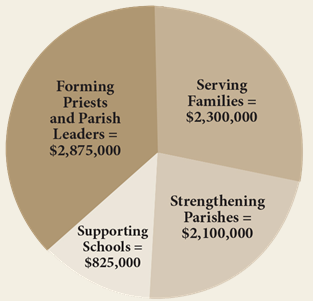 To read more about the ministries the Catholic Stewardship Appeal funds please click here.
Donating to the Appeal
Prayerfully consider how you can support the Appeal, then use the Archdiocese secure on-line contribution form. (Please click here)*
Many employers sponsor matching gift programs that match charitable contributions made by their employees. Some companies may even match gifts made by retirees, spouses, and board members. To find out if your company has a matching gift policy please visit the Archdiocese site by clicking here*.
* By clicking on either link you will be taken to the Archdiocese website.