Archdiocese Resources
See You At Mass!
The Archdiocese of Milwaukee has created a series of video clips of personal testimonies on the joys and necessities of attending Mass in person. This series is called "See You at Mass" and is an invitation from the Archdiocese of Milwaukee to return to Mass.
To view the videos, posted weekly by the Archdiocese, please click here.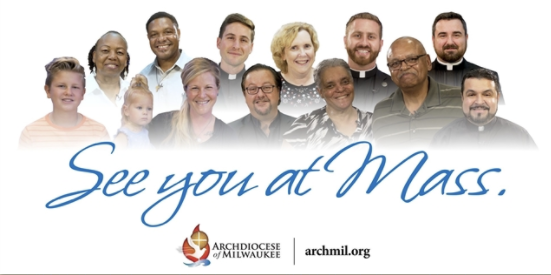 Two Guys and a Gospel
Listen, learn and live the Gospel (and maybe laugh a little bit, too) with this free podcast that will be posted every Wednesday at 10 a.m., prior to the upcoming Sunday Gospel. Tune into a series of weekly podcasts from the Archdiocese of Milwaukee with Fr. Phillip Bogacki, Pastor of Christ King Parish, Wauwatosa and St. Bernard Parish, Wauwatosa, and Fr. Ricardo Martín, Pastor of Sacred Heart Parish, Racine and Vice-Chancellor for the Archdiocese of Milwaukee.
Archdiocese page for Two Guys and a Gospel
Available via Soundcloud on the Archdiocese of Milwaukee website and iTunes