Archdiocesan / District 12 News
Archdiocesan Human Services Information
Catholic Charities of the Archdiocese of Milwaukee provides human services to people of all faiths in the ten counties of southeastern Wisconsin. Services include behavioral health counseling, outreach services to people in crisis situations, pregnancy support services, adult day services, in-home support, hoarding intervention and treatment, legal services to immigrants, refugee resettlement services and supported parenting services.
Please visit Catholic Charities of the Archdiocese of Milwaukee at https://www.ccmke.org/ to quickly access the available programs and services that are offered.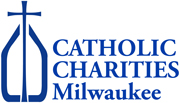 Events scheduled by other Parishes in the Archdiocese are subject to change!
Please contact the Parish Office of the appropriate Parish, or the contact person associated with the event for up to date schedule information.
Please note: events may be canceled, without prior warning, due to inclement weather - please listen to local television or radio for possible cancelation notices.