Recent fire at Parish office
Blessed Savior thanks the brave firefighters who worked to extinguish our recent fire.
We pray for these firefighters, and all first responders, that they remain healthy and safe.
On Monday, February 15th, there was a fire at the Blessed Savior parish office.
No one was injured. The church building and Blessed Savior School - West Campus were NOT impacted. Mass and school will continue as scheduled.
Until further notice, the parish office will be closed.
If you need to contact anyone at the parish, please call (414-464-5033) or send an email to; parish@blessedsavior.org.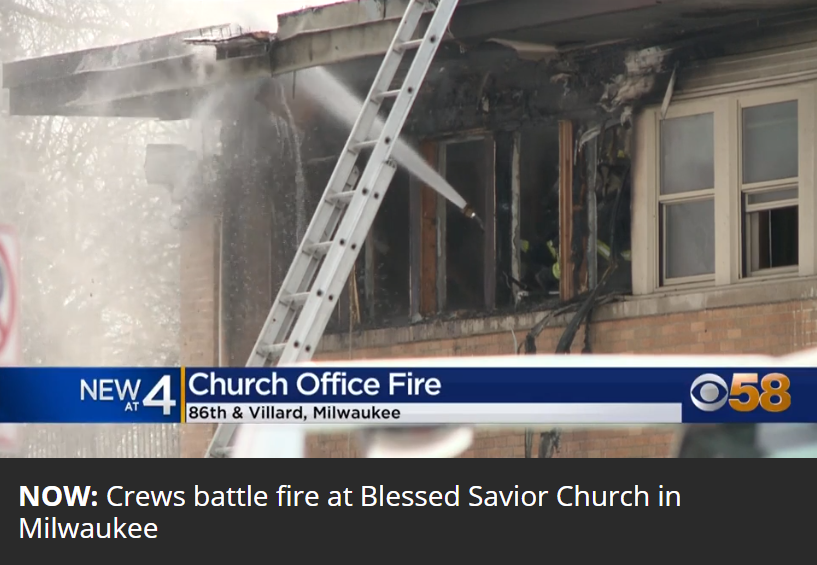 From the CBS 58 website:
MILWAUKEE (CBS 58) -- It's been a busy winter for Milwaukee firefighters, and they were called out again Monday afternoon, Feb. 15.
They battled the bitter cold while fighting a fire at Blessed Savior Church at 86th and Villard.
The fire started on the second floor in an office area.
As you can imagine, the cold and snow made the response much more difficult.
"With the cold weather conditions, we got an additional engine just because we typically have issues with hydrants and water supply," said MFD Battalion Chief Schuyler Belott. "Obviously, we got a lot of snow, which creates additional challenges for us."
Two church workers told firefighters that there was no one else in the building, and that no one was hurt.
Investigators are now trying to figure out how the fire started.
Additional information will be posted as available.
Report from MFD
Milwaukee firefighters along with a battalion chief from the Wauwatosa Fire Department worked a Monday afternoon fire at the Blessed Savior Church parish office located in northwest Milwaukee. Originally dispatched as a smoke assignment, the balance of the assignment was filled when Engine 4 reported smoke visible from their quarters on Appleton Avenue. An extra engine and MED unit were added to the assignment due to the single digit temperatures. Fire was visible from the second floor of the structure upon Engine 4's arrival. Crews stretched a handline into the building and quickly knocked down the blaze. Extensive overhaul was undertaken by interior crews while Rescue 2 opened up the soffits. Companies operating at the incident included: Engines 4, 8, 16, 22, and 24; Trucks 3 and 7; Rescue 2; Battalions 2, 5, and 7; MED 13 and 16 and Car 14.